Eto po ang aming munting sari-sari store
.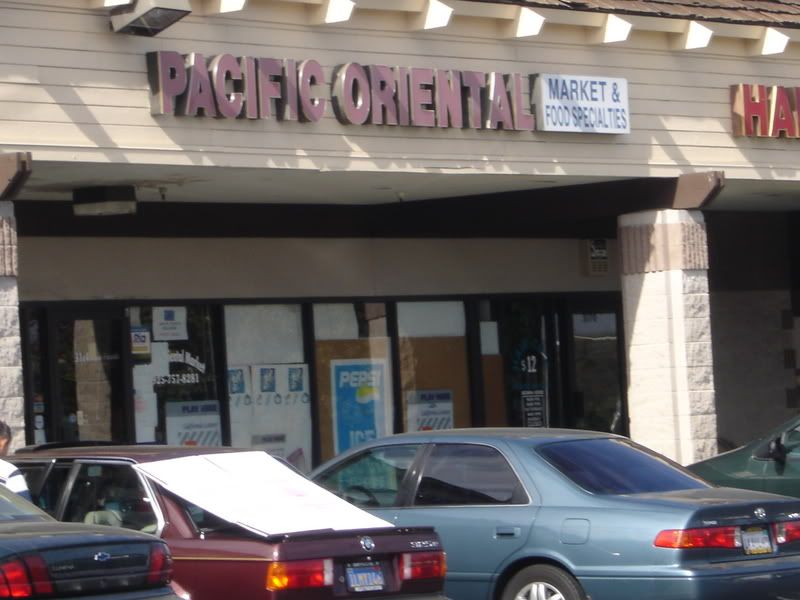 This is Pacific Oriental, my go-to store for Pinoy needs.
Dito, meron rin kaming
comfort food like Choc-Nut, Curly Tops, V-Cut, Chippy, Clover Chips, Boy Bawang, Cornix, garlic chips and peanuts, butong-pakwan, polvoron, Pichi-pichi, palitaw, (what's the diff na nga ba?), sapin-sapin, leche flan, bibingka, and maja blanca. If you look close, there is turon and carioca (?), halo-halo and frozen manggang hilaw today.
When I have no time to cook, there is food-to-go: sinigang, adobo, bistek (like lola's) pinakbet, pansit (all kinds),afritada with hotdog, tinola, pritong tilapia, BBQ, lumpiang shanghai, and my favorite pag suwerte, binagoongang baboy. (I also want to know why Pinoy food is better tasting here??) The manang is just about to complete her lunch menu. I think today, it's sinigang, sayote guisado, pancit, and caldereta.
In the freezer, I go crazy for the smoked tawilis, Martin Purefoods longganisa, tocino, and corned beef. Saranggani Bay bangus belly is a delicious steal, and fresh tilapia is cheap at $1.75/lb. There's lots of Rufina Patis, Silver Swan Suka and Toyo, although fresh calamansi is rare. And what would we do without Knorr cubes, Sinigang Mix, and Kamayan bottled bagoong? (Pronounced "ba-gong" by Fil-Ams). And for the Chinoys, there's hopia, tikoy, and moon cake, too.
There's also ube and manggo Magnolia Ice Cream (made stateside), and lately Selecta Ice Cream--both more expensive than Haagen Daazs or even Breyers. And the Royal and Sarsi, mahal at $2.29 per 1.5 litro. Mas mura pa ang Fanta and every other rootbeer. We also like the calamansi and dalandan juice.
Pacific Oriental also has a money remitting center, a balik-bayan box forwarding, and Pinoy movies for rent (Kutob, Dubai, Saan Ka Man Naroon) for $3.99 each. A mortal sin for those who buy in Arlegui!
Here we get to say "Salamat, manong/manang." Everyone is friendly and the store music blares Willy Revillame's songs.
Available too are Nagaraya Adobo Flavor Nuts, Nature's Way Tawas Deo, Gugo shampoo and Bench Bubble Gum Cologne,
kulang nalang yung mga sabit na shampoo sachet
, not applicable due to wholesale-quantity lifestyle.